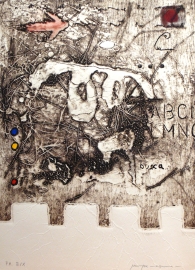 2007
Story of a raindrop II
Incision techniques and additive direct iron Poupée, digital collage, embossed and illuminated by hand.
DESCRIPTION
Series: The Book of Water
Hanhemule Paper 300 gr 38 x 27.5 cm.
Print Image blooded
100 copies signed and numbered 1 / 100 to 100/100 to print.
10 P.A. signed and numbered from I / X X / X
Company: Col legi d'Aparelladors Arquitectes Tècnics i Lleida. 2007.
Stamping Workshop: La Tinta Invisible
www.gravat.com